Vicksburg Visitation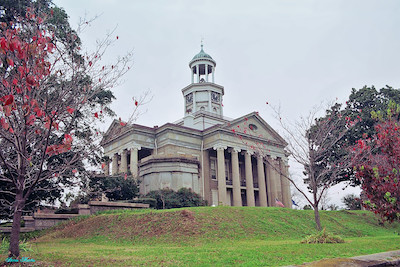 Old Courthouse Vicksburg Mississippi

I suppose the people of Vicksburg possess mixed feelings, much as they did in 1863. Happy to celebrate the anniversary of one of the most strategic days in American history, yet always identified with the vanquished side of the struggle. July 4th, 1863 was a relief from the siege yet filled with grief for many. Vicksburg's surrender was a triumph for so many more. A needed and welcome victory on a march towards a better world. I had decided to hike up the hill; it gave me a better appreciation for the terrain and made parking easier. Looming atop the hill and dominating the view was the historic courthouse. The Warren County Courthouse was less than a decade old when it played its most prominent role in history. Courthouses rising, the symbols of the arrival of civilized peoples. The civilized people who exiled one group of people and subjugated another. Once the conquest was completed the civilized peoples built our neoclassical monuments to justice. Halls of justice built upon sweat, tears, welts, and blood. Those laborers who were the builders then often excluded from any standing in the marble rooms. Here it stood a statement to the accomplishments of mankind, if some men and most all women were conveniently forgotten. It had become the object of defiance. The prize to be obtained. Standing high able to capture views and breezes that were absent in the malarial swamps, endless mud, and hard scrabble fields of the land around it. Returning the United States flag in 1863 was a symbol of celebration and despair. It was the focus of the commemoration today. A great museum to honor the struggle, hopefully some surplus coins of tourists would keep it solvent for a while.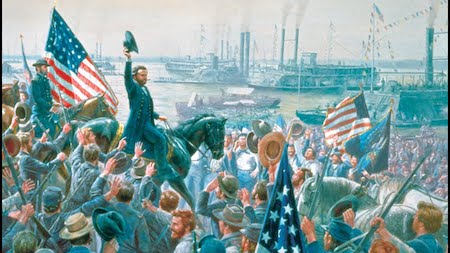 Personally, knowing it was the Warren County Courthouse seemed incongruent. I had grown up in Warren County. My ancestors and neighbors were not the builders of this monument. They would be celebrators of the capture of this Southern icon of the cause.  Their names would be the names memorialized in the Illinois Memorial. Another example of how two regions on similar paths diverged and formed into explosive forces of opposition. Each region struggling to transform the land into agricultural bounty, each with different struggles and different methods to attain dominion. I did not come to reenact but to commemorate. Here simply to remember the struggle and the significance of this day over nearly two centuries ago. I enjoy walking through these places of history. It makes real the texts I have read. My fascination takes me to the less traveled regions; where I enjoy walking in an unhurried pace. Time for pause and reflection; time to interact. A relaxed lifestyle allowing for a connection. Always time to share a moment with a stranger who enjoys a little gab. Vicksburg is a place with statues of President Lincoln and Jefferson Davis as if in conversation. Neither looking like they were ready to compromise. I think Lincoln would say we have had nothing but compromise; it is time to stand firm. Davis would argue over the aggrievement of Southern rights. I would say those arguments were long past. Yet I see social media feuds, and I know old sentiments easily flare into modern confrontations. Kentucky Bourbon can still accelerate a fire in our present day as it did in the nineteenth century. Its importation from a land of supposed neutrality does not mute the effect. Lincoln and Davis walked separate paths from their neighboring beginnings. They held no common vision of the future. In their own time I doubt they would find much to discuss with each other. If somehow put together in some future Valhalla with the hindsight of history, then I am sure there would be a dialog.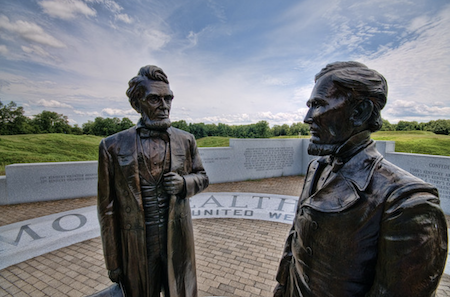 Coming up the bluff is a good hike. I would enjoy watching a flag raising ceremony. It would give me time to catch my breath. Mahmoud would likely want me to count my steps. He owned a research and development business that shared the building where my office was located. He often asked about my visits to historical sites. My semi-retirement gave me time for hikes and camping. No trip or battlefield had intrigued him as my Vicksburg trip and plan to be here over the 4th of July. I didn't think he would ever stop quizzing me. I thought I knew a great deal about Vicksburg. Still I had to do research to answer his questions. I slowed as I approached no need to appear winded. I slowly recover, observe, and listen.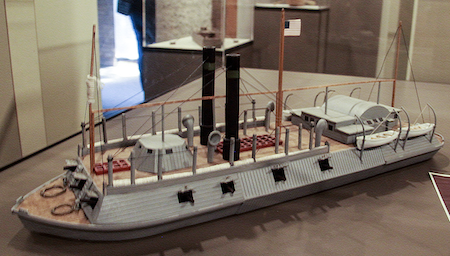 I enjoy the uniforms of the reenactors, who care so much about detail. I do not like wool. I am glad to not be wearing anything but jeans and a polo. Mississippi is still a hot humid place in July. How squalid it must have been in 1863. People forget today's cities were small towns. The armies contained thousands of men. Over 100,000 engaged here. Vicksburg itself hosting over 30,000 Rebels. A mostly willing population of 5000 but inadequate to host such a large number. Horses and mules also came along with Civil War armies. Requiring food, water, and endurance the same as men. Creating the same destabilizing effects on sanitation as any other living beings adding even greater putridness in death than the men. I expect we would find the stench appalling. The rations were poor fare at the best of times, but within the city under siege rations were gone. Vicksburg was under siege from May 18th to July 4th. Mahmoud wasn't satisfied with the answer I knew, from May to July, he wanted more accurate data.  I now knew about as much as anyone who was not there. History often allows the future reader far more knowledge than being an actual participant. The longer lens has an advantage of breadth but also is blurred by false narratives. Vicksburg had spent a "forty days in the wilderness" experience continually looking for a redeemer. None could or would come. Lee had argued with Davis for another invasion or grand raid of the North near Washington.  General Grant had driven Joe Johnston away at Jackson. Loring lost or left alone had followed after Champion Hill. Once the Union had sealed Vicksburg and secured the lifeline of the 'Mighty Missisip'; Grant had decided to out camp them.  The defiant secessionists looked to the West, but only saw setting suns no armies or navies. Neither Price nor Taylor would free them. As the Union armies trenched and mined the Rebel army and the residents within Vicksburg withered.  The outsiders getting stronger and closer until the siege culminated with a surrender negotiated to occur on July 4th.  The second large army to surrender to U.S. Grant and his Western Men.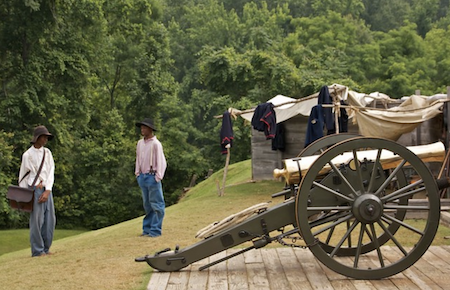 I had come to listen to lectures, to walk the fields, and observe the ceremonies of this most important event. Vicksburg's capture pulled the nail head and put the key back in the Union's pocket. Unconditional surrender Grant had negotiated conditions with paroles for Confederate soldiers which commenced on July 4th after the Stars and Stripes were restored to fly above the old courthouse, actually new courthouse then. I watched aware that on this same day two battered armies at Gettysburg would be still in shock, as Lee began to flee to Virginia. In 1863 those in Vicksburg and Gettysburg would yet be unaware of each other's impact on the course of history.  My breathing was measured again. I wandered about as a respectful crowd cheered the flag ascending. A couple of cannons were fired ending one part of the day. A large outdoor event would soon begin. A bounteous meal and music celebrating the starvation and carnage or maybe better put celebrating its end. An end for the armies in Vicksburg at least on that one day.  I walked up the old steps and began to tour inside the old courthouse.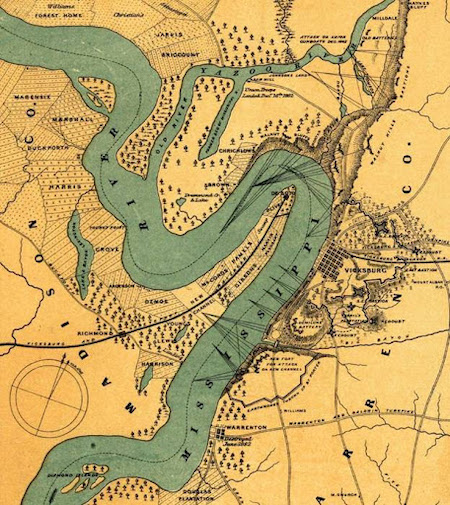 Poking around gazing at the old war tools, camp paraphernalia, extant documents or their copies. Strolling and reflecting trying to avoid clusters of people on the guided tours. I came up to an unmarked door; it was unlocked, and I opened it. I felt a mix of dizziness within a calm steadying force. It was as if some hydraulic of motion buffered my step inside. I was neither floating nor falling, rather fading forward at a steady pace. Once the door closed and I had my feet solidly on the floor I began a normal pace to a west facing window. It was warmer in here, either not cooled or inadequately vented. It reminded me these buildings were never meant to be seasonally comfortable as we demand today. People must have sweat a great deal more in 1863. My eyes readjusted and I saw a man in uniform staring motionless out a window to my right. A Union uniform as many others wore outside today. This one was rather plain and worn. I thought a true reenactor. The man had his back to me staring intently or maybe blindly, but certainly deep in thought. I moved over to a window away from him, so as not to interrupt his thoughts. I looked out to the West; the sight broke my silence. It elicited an unintended yelp from me. I was looking down not on the modern diversion canal but on the grand ole man hisself. There she flowed right at Vicksburg's front door. At the shore Union gunboats, no power lines, no concrete streets, no traffic lights. The dusty streets were filled with uniformed men from both armies. Some Union men were mounted. It was impossible, still I was sure it was not some high-tech holographic display. Looking down Grove clear to the river past where I had parked and hiked to the courthouse. Now, there was nothing I had seen as I had ascended. My exclamation had interrupted the uniformed man's thoughts.  He turned to me and asked, "Why did Allard and Earp let you pass?" He then looked me over more closely realizing what an oddity I was. In this moment I knew I was standing before Ulysses Simpson Grant – actually Hiram Ulysses Grant the name long ago discarded by bureaucratic error.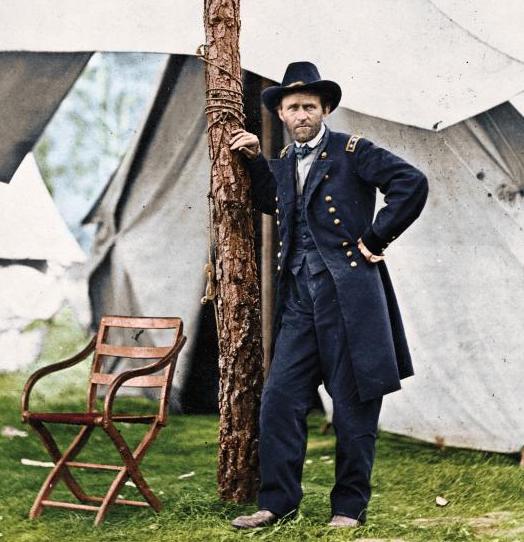 Forgottonia is a place where you can endlessly wander the lonely roads, and never once miss the fast lane. The name Forgottonia captures an image of a region, off the beaten path, which is very true of Western Illinois.