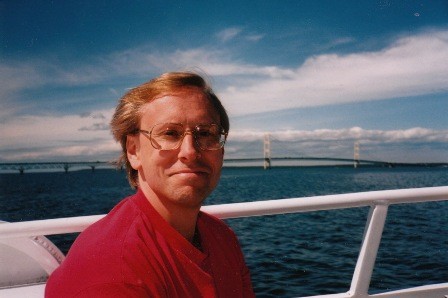 Chad Blooming
Let me tell you about Chad
The ice water challenge is a great phenomena sweeping through our social media world.  It has raised more money for the ALS cause than any ALS fundraiser ever before and surely ever again.  I hope more money goes to care for suffers of ALS and their caregivers, of course everyone hopes it boosts research to find a cure. The Labor Day Muscular Dystrophy Association fundraiser hosted by Jerry Lewis was another fundraiser hoping for a cure. The attempt to find a cure by dedicating enough money for research is not a sure path. Scientific research is tricky; creativity sparks the research in serendipitous ways.  Pure research should be funded to see where it leads. If you wanted to research eye disease, would you have first invented a laser? The question makes a great point, it was offered by one of our great scientific researchers. Our government should fund pure research; it lifts all of us. We should reform patent law to allow research universities to receive residual revenues from profits earned as a result of their collaborative advances. It would spark research. My doubts aside, a cure may come from the millions raised in the last few weeks. I hope so, but let me tell you about Chad.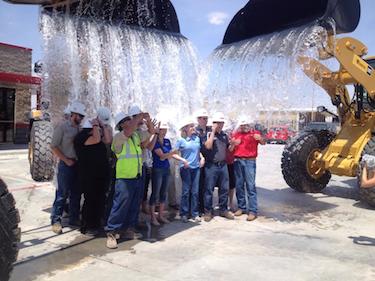 photo credit Rachel Ryan Potts, Caterpillar Inc.
Chad was a good guy. He worked as a case worker helping people with disabilities train into jobs that would improve their lives. He was likeable, enthusiastic about all sports, had played hockey in high school.  Having grown up and lived in Cleveland all his life Chad hoped and dreamed for the Browns, Indians, Cavilers, and Blue Jackets (probably even the Barons) to one day win championships.  None of these teams have given their fans many glory seasons to relive.  He was always positive looking forward with hope to his teams' prospects in spite of their likelihood to disappoint. Chad was a Catholic, so Catholic his sister was a nun. I would have never known Chad if my wife's best friend Ellen hadn't dated and then married him. Our family went to Ohio for the wedding, my first Catholic/Jewish wedding. Chad lived in Wooster where Ellen lived and drove back for his job. He considered Wooster a small town, even though he had been to Forgottonia.  All places are cities compared to any Forgottonia town. He became a Wooster Booster and loved their school sports. Chad was a normal guy living a normal life. Some of us find this a goal we are not quite capable of.
One day Chad put his foot down as he waited at a stop sign on his motorcycle. His leg didn't support him; he tipped over. He went for tests and soon he had a diagnosis: ALS, Amyotrophic lateral sclerosis, also referred to as motor neurone disease (MND), Charcot disease. Lou Gehrig's disease is the name we all know it by.  One day you are living a normal life; the next the likelihood of living long enough to see your step-daughter graduate from high school, well it isn't likely. Your body will cease to respond, even the autonomic actions like breathing in two to three years. This is your prognosis, everyone's prognosis; only 4% of those diagnosed with ALS live over ten years. You want to believe in miracles, a magic diet, a faith healer, or a quack doctor, but reality will run its course. Emphasis on Run, its course, is how I would describe it. Ellen and Chad came over for Thanksgiving. Chad had been diagnosed for about a year. It was like he had aged 25 years. He walked with a cane, he was grayer, and he tired very quickly.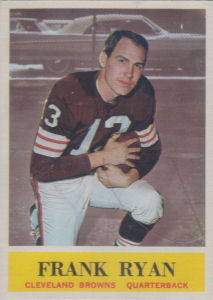 Cadillac in background belonged to Jim Brown according to Chad
My son was a high school football player; we like to watch the small school high school playoffs on Friday after Thanksgiving. Chad was drawn in to our familiarity with the small schools and the players playing. He still had his enthusiasm for sports. Over two days eight games in Champaign determine the eight IHSA football champions. On Friday the smallest schools kick off at 10 AM. We watched them all. Chad was still excited to watch the 8A game on Saturday night.  He knew none of the players, none of the schools, but loved the games. The next year Chad could not possibly have come to Illinois for Thanksgiving. As someone's body becomes less and less functional it becomes more and more overwhelming on the family. Limited mobility becomes no mobility.
Chad communicated with his computer, but became less able to use a mouse. Track pads didn't respond to an adaptive device, they require fingers. I hadn't realized this until my wife called asking for a solution as she visited trying to help support Chad and Ellen.  I suggested what was once called a turbo mouse where the roller ball is on the top. It worked, but all solutions are temporary. Chad became completely immobile before dying less than three years after the motorcycle incident. This is typical of those with ALS.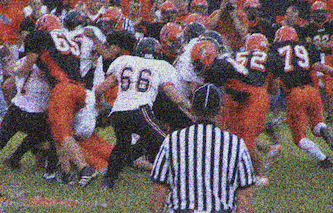 Chad was just a normal guy whose life expectancy went from twenty, thirty, or forty years to two, three, possibly four at the outside. I think about Chad and of my other friends who have died or suffer illnesses that limit their mobility. Many of them like Chad were younger than I am. I always add gratitude for my health as I push to work harder. It helps to drive my self to higher fitness levels.  As I saw more and more people post the ice water challenge I wanted to help everyone understand how devastating this disease is to a seemingly healthy body, how much it wears and strains everyone in the family.  I am glad you did the challenge, thankful you donated money, and I do know it will help those with ALS.  After you are dried off I would encourage you to hug your spouse. Do something with yours kids something that they love to do. Call your parents. Even a normal lifespan is never long enough when you bring love to the world, work actively to make it a better place. Normal can end at anytime; I cannot say I always act as if I believe it. I do know the time I have spent being with my family remains the most meaningful thing I've done. 
Yes Chad, another high school football season is about to start. It doesn't hold the same anticipation as when my sons were in high school, but I still enjoy watching the games. The boys are doing well as young adults. Come Thanksgiving weekend we will still watch the playoff games, although not all eight. (Football tops shopping in our family) If Lebron can take the Cavaliers to the NBA finals, I'll remember it would please you. I'm afraid the prospects for the Browns remain less than stellar.  They have Johnny Football, but really need another Jim Brown. Yes the Browns new Texas sensation at QB is not another Frank Ryan. I remember you calling him Dr. Frank because of his PhD in mathematics.  Your fond reminiscing on what a great individual he was when you had met him as a boy. I am so glad we had that 1964 football card of him, it meant a lot to you. After reflecting on your life I realize it isn't the final score or the length of the run; it is the enthusiasm and love that made it meaningful.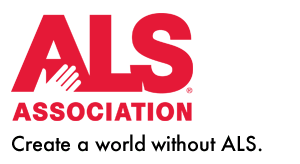 Forgottonia is a place where you can endlessly wander the lonely roads, and never once miss the fast lane. The name Forgottonia captures an image of a region, off the beaten path, which is very true of Western Illinois.


Return to Illinois Observer Index