August 25, 2006 will be an important night for my son and for me. It will be the opening game of his senior year. In the few minutes leading up to kick off at 7:00 PM we will both be ready to end the anticipation. He will end his nervousness by hitting some one; I will have to be more restrained.
I have two sons and Alex is my youngest. Everything will be a little different after this year. I have a wonderfully close relationship with both my sons, but a year from now they will both be in college, and life will change. We all share a love of history, music, family, and food, lots of food. Alex and I have a special connection - football. A grade school teacher who was also an assistant football coach played touch football with the kids at recess. Alex was in first grade and since then football has been Alex's one and only sport. We have traveled to JFL practices and games discussing life, history, and football. I always concentrated on each play because he was going to ask me about some play or another and Alex expected me to have paid attention.
A father, son, and football is a delicate balance. It is common to see fathers pushing their sons to live out dreams they left on the field years ago. I tried to make sure it was his game first and then I have shared it with him. I knew I could easily cross the line putting my enthusiasm ahead of my son's passion. Football is a tough game at times. I remember we discussed the little hurts and bruises when he was in JFL. I said you have to accept the little bangs; it is part of the game. Ignore those and you'll know when you are really injured, but don't ignore the real injury.
After that talk you wonder how you'll feel if he does get hurt. <---next column--->
My son works very hard with weights and conditioning. My weights were bales of hay. Football allows him to learn a sense of accomplishment only perseverance and dedication to a goal can teach. In three short years he has gone from a kid who couldn't move me to a young man who can throw me across the room.
When Alex was a freshman the JV played a game at my high school's football field. I had played in my last game on that field; it was strange coming over there as the visitors. Alex hadn't played much on the JV, but he got his first start that night. This is the only time his team ever played on that field. It seemed coincidence; he proved himself that night, beginning his time with a game where my time had ended. I look back on football with mixed memories, but I guess he exorcised any of my old football ghosts. He is a better player than I ever was. I am sure he plays football because he loves it, not because I want to see him out there.
He feels very lucky to play for a small school where hard work can carry a player a long way. He is thankful to play for a good program headed by good coaches. Football is a sport that takes a team to succeed. This season is a special time; each team will enter into the unknown with new opponents in places they have never played. Even the top ranked programs must have a little doubt. High school football always brings out the unexpected.
The varsity has lost one regular season game each year while Alex has been in school, so as the Friday Night Lights movie posed the question, can they be perfect? Football will always remain our special connection whatever this season brings, but on Aug 25 at 7 all dreams will be possible.
Epilogue:
Could they be perfect?
No, not on wins and losses. The team I thought would be on the field, never was there. One starter moved, others didn't go out, some weren't in shape, some couldn't follow the rules, and some were not on the field because of injuries. It shows football is truly a team sport. When enough young students with all their teen age passions dedicate themselves to putting the team first and working all year for a goal, it is a rare year. I lived through a season with some great moments and great games; I saw a team with a lot of character. The team earned a play off berth, allowing a program without a strong tradition before the past four seasons to continue to build for a new season.
I have been reading about some of the great high school football players in this year's play offs. Players who have the athletic abilities to be major college recruits. A very few students in 1A, 2A, and 3A football have those skills. The students I read about might not have the ACT scores to be accepted.
I thought to myself what had I wanted for my son who played high school football?
First, I wanted him to grow strong, not carry away a nagging injury. I wanted him to learn a few life lessons about team work, leadership, and individual effort. I wanted him to be able to look back with pride knowing he played well. I wanted him to have fun. As I hug my son who is so solid. I am glad he is well and glad he looks back on football as a great life experience. He wants to try to continue at a Division III school. I told him I will cheer for him, but he has to decide if he wants to commit himself for another four years. Once again it has to be his dream to live out. <---next column--->
Alex could chose to never pull on another helmet, he has all the potential to make important contributions in life without football. He will make the world a better place. He is a student with ACT scores that allow him admission to any college. He couldn't make every school's football team. It looks like Alex isn't ready to put football away. He will go to a school where the student is first and the athlete very much is second. So, this year the team was not perfect, nor was Alex perfect on every play. He is a son any parent would be proud of and that is perfect enough.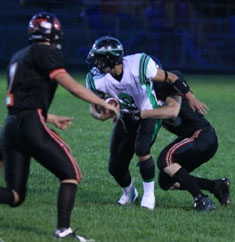 Chad Schloemann of Athens Football.Com took this photo of Alex breaking up a screen with this tackle. It was one of the best action shots of him I have, so thank you Mr. Schloemann.
(As a note to Athens keep heart for the future, you will make your school and community very proud.)